The top day trips in Tuscany from Florence
Based on article by Lousi Loring from www.visitflorence.com (link)

Tuscany is full of places to visit and it can be hard to choose when planning your trip months in advance. These are the best day trips that I recommend you can take across all of Tuscany, especially if you base yourself in Florence. They represent the whole of Tuscany, are generally easy to get to and simple to navigate. You can do them as day trips if you also base yourself centrally in Tuscany.
Pisa
Pisa is best reached by taking one of the regional trains from Florence's main train station, Santa Maria Novella. Trains leave very often, about three per hour and last around an hour or so. You will want to check with the Trenitalia website to look at timetables and make sure your final destination is 'Pisa centrale' , which is the main train station in Pisa. The train station is located close to the city center, allowing you to either walk (about 1.5 km) into town or to the Leaning Tower or to take public transportation. If you would like to walk, head in the direction of Piazza Vittorio Emanuele and make your way in the direction of the Arno, which you will need to cross. If you would like to take the bus, pick up tickets at the kiosks in the train station and then head to the bus stop across from the Jolly Cafe to catch the LAM Rossa bus, which will take you close to the Piazza dei Miracoli in about 10 minutes. You will want to get off at the stop called 'Torre'. To return to the train station, you can catch the same bus from directly across the street where you got off.
Lucca
Lucca, about an hour and a half north of Tuscany and can be reached by either train or bus, but I recommend taking the train because it is direct and offers wonderful views of Tuscany. Trains leave about twice an hour from Santa Maria Novella. The Lucca train station is located just two blocks from the city's 16th century walls, which enclose the city center, in Piazza Ricasoli. I suggest taking the short walk and entering through the closest door Porta San Pietro. If you would like to enter another door and are lucky with weather, take the opportunity to walk along the wide bike path , which makes for a pleasant stroll under the sun.
Arezzo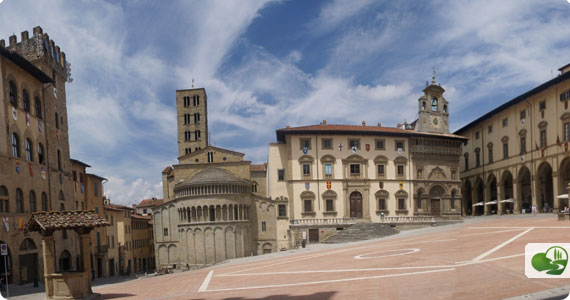 Arezzo is just a short 45 minute train ride south of Florence. Take one of the hourly trains for €8.00 from Santa Maria Novella and get off at Arezzo, being sure not to buy a ticket to Arezzo Casello 1 or Arezzo Pescaiola, which are outside the city center. To get into the center of town, exit the train station, head straight towards Piazza Guido Monaco and then get on Via Corso Italia, to the right, and walk for about 10 minutes.
Cortona
Cortona is another destination in Tuscany best discovered by taking a train from Florence to Camucia-Cortona, located about 3 km just below the hill top town. Be sure you take this direct train, lasting about 90 minutes, rather than to Terontola-Cortona, which is further away and requires a change. Once you have arrived, you can either take the trek uphill or take the local bus service from the station. Unless you are active, I would recommend taking the bus, which leaves every 30 minutes, because the walk is uphill and in the heat, is quite tiring. Buy bus tickets from the tabacciao at the train station, costing around €1.10. Despite this uphill, Cortona is well worth making the journey if not only for the unforgettable views of Tuscany and Umbria.
Siena
Siena does not have a train station but can be reached by bus in a little over an hour, leaving from the SITA bus station on Via della Scala to the left of the main entrance to the Santa Maria train station in Florence . This is a great way to travel because you pass through beautiful countryside and the bus drops you off right in the center of Siena in Piazza S. Domenico so all you have to do is walk 5 minutes to arrive in the main square, Piazza del Campo. Siena is so small so you will not need to worry about local buses to see all the top sites - all you need is a good pair of walking shoes. To head back, take the same bus, which you will catch in the same spot where you got off. Check out the bus schedule to see which times work best for you. They are very frequent though, at least one an hour, allowing for flexibility in your day. Buy your tickets from either the SITA bus station or one of the tabaccaio stores around the area and be sure to stamp your ticket when you get on the bus to validate it.
San Gimignano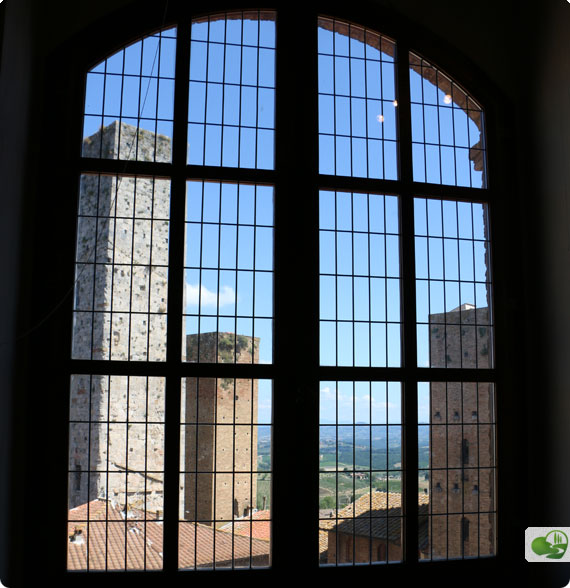 San Gimignano is a must see while in Tuscany and best discovered by taking the bus or by driving because there is no train station close to the city center. You can catch one of the many buses that leave at least once an hour from the Santa Maria Novella bus stop, located just to the side of the train station, from the BusItalia Nord company. Buy tickets at the bus station or from a tabaccaio for around €7.00. The bus will drop you off in Poggibonsi (50 minutes away), where you will need to change buses to arrive in Piazzale dei Martiri where you can enter the city through the main door Porta San Giovanni. Unfortunately, you will have to change in Poggibonsi because there are no direct buses. This being said, they are well organized and your layover time shouldn't be much longer than 15 minutes. Simply check the board when you get off the bus and see which bus will take you to San Gimignano - it should be clearly marked and will take another 25 minutes. Your total travel time will take about 90 minutes with your layover. If you would like to drive, take the Firenze-Siena road, exit at Poggibonsi Nord and follow signs to San Gimignano. Park in one of the many lots around the city walls.
Chianti
Chianti is one of the most beautiful and fun areas in Tuscany but does require a car because there are so few buses that only make a select number of stops. If all you want to do is visit a small town like Greve in Chianti, you can easily take a bus that will drop you off right in the center from the SITA bus station. If, however, you wish to visit wineries and tour the countryside, it is best done by car, because it gives you a lot of flexibility. Driving in Chianti is fairly simple and easily navigated. I suggest taking the Chiantigiana Road, known as the SR222 and the Chianti wine road because it gives you the most beautiful views, takes you through quaint windy roads, typically of Chianti and takes you directly to many of the wineries.
Mugello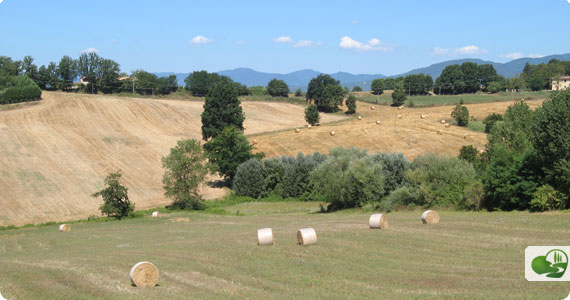 Mugello is also one of the areas in Tuscany best discovered with a car. Although you can take buses to specific towns such as Borgo San Lorenzo or Scarperia, if you wish to see the lush countryside and leisurely poke around, have maximum flexibility, all the while discovering its delicious food and breathtaking views, it is best to drive. Make sure you have a map or a GPS handy because if you want to venture off the main roads, you will want to be sure that you are well prepared. When I travel, I like to take the SS 302, known as Faentina because it is the most beautiful. Similarly, the SS 65, or the Bolognese, is also stunning. If you are looking for a more direct route, you will want to get onto the A1 highway and exit at Barberino di Mugello.
Enjoy your time in Florence but when you have the time, definitely plan some day trips to the rest of Tuscany!